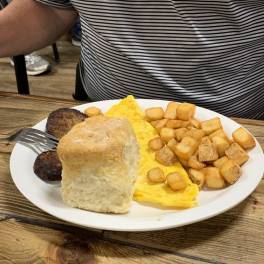 Farmhouse Restaurant
119 W Main St, Branson, MO 65616
417-334-9701
Price ranges: $20-40
-
Closed
About
No trip to Branson would be complete without stopping into the Farmhouse Restaurant for some of our down home cooking.
Welcome to the Farmhouse! The Farmhouse Restaurant is one of Branson's favorite eateries where tourists and locals alike go for their favorite home-style favorites. Located in the picturesque Branson historic downtown area, the Farmhouse Restaurant offers hearty food that tastes like it was made in a real country kitchen. Enjoy the heaping platters of fried chicken, country-fried steak and buttery mashed potatoes. Of course, the Farmhouse offers great entrees, but their signature item is their blackberry cobbler.
When you've finished your meal, be sure to head upstairs and visit the gift shop. You'll find an amazing variety of unique home décor items and great gift-giving merchandise.
Farmhouse Restaurant Coupon
Farmhouse Restaurant Coupon in Flavor of Branson Dining Guide
Farmhouse Restaurant Coupon in Flavor of Branson Dining Guide on BransonRestaurants.com $3 off
Show more
Hide
Farmhouse Restaurant Gallery
Location
119 W Main St, Branson, MO 65616
Contact Phone
417-334-9701
Locations
Downtown - Historic District
Do you own this restaurant? Claim it now